Reading Time:
5
minutes
In our previous blogs (Read 1, Read 2) we have talked about how today in such adverse times when the world fights a unique war with COVID19, the prefab construction methodology is more relevant than ever. The normal life of people is expected to be redefined when the lockdown is lifted and masses recommence their daily routine. The world has survived all pandemics in the past. We are alive and more populous than ever is proof of that, hence taking forward the inspiration from the past we should not just sit back and wait for the situation to get normal or just rely on medical science, rather we should all responsibly play our part in this fight. The most lethal weapon against coronavirus is social distancing, and by working from your home is how you can strike!
What will be the Estimated Cost of Construction of a prefab room on my terrace top?
It is not possible to state a price that can be applied to the Pan-India context, as the price of various components differs from location to location. Also, even if someone has mentioned the space available, they still have to select the kind of electrical fittings, insulation, interior design, floor layout, tiles, bath fittings, type of external wall panels, etc. which is something that will vary from user to user, and thus, it is hard to standardize the estimated cost of construction.
Nevertheless, you being the homeowner, need to know your budget and what amenities and specification you would like in your house and then Limpid Construction can work effectively to plan and fit your requirement into your budget.
Now, so that you can have an idea let's explore our recent Prefab rooftop project in Indore and have a look at the commercials.
Project:
A 343 sqft. Built-Up Area having 263sft area for the bedroom, a grand 50sft bathroom, with an additional 30sft area for the dressing room.
Specifications:
Frame structure: Tata steel square hollow sections of 310 grade were used to make the frame structure.
External wall and roofing panels: Jindal Steel pre-painted Galvalume sheet (PPGL) in 50mm thickness, were brought in directly from the factory in desired sizes. The end flashing, gutter and corner flashings used were also of Jindal make.
Flooring: Kajaria make vitrified tiles of size 800mm x 800mm were used for flooring in the room and anti-skid tiles of size 300mm x 450mm were laid on the bathroom floor.
Windows: Energy-efficient and good grade powder coated aluminum windows of size 6ft x 7ft were installed.
Doors: Flush door having both side veneer with double pattam chaukhat in Sal wood was installed at the entrance and Sintex make PVC door was used for bathroom.
Electrical Works: Properly insulated electrical wires of Polycab make were laid in a casing. The electrical modular switches of Western make and LED lights of Syska make were also installed.
Plumbing Works:

PVC pipes and fittings: Supreme,
CP Fittings: Jaquar make (Diverter, Spouts, Shower set, health faucet)
Sanitary: Single body WC and modern washbasin.

Inner wall paneling and false ceiling: Gyproc (Saint Gobain) make gypsum boards were used for wall paneling and false ceiling decorative works.
Painting works: After one coat of primer two coats of Asian paint emulsion were applied on to the inner walls and ceiling.
A professional team of skilled workers was deployed to install all the parts into place.
The materials used were of premium brands viz Tata Steel, Jindal, Kajaria tiles, Jaquar fittings, and the Cost of Construction in Indore after including all the above specifications was Rs.1270 per sqft.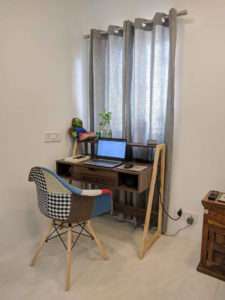 Advantages of a Prefab Construction
So, the reason we recommend prefab construction for your home extension (adding room, a separate room to work from home, etc.) project is because of the number of advantages it has to offer. The entire construction process was:
Really quick: It took us just 5 days to complete the whole project since it is just the installation work that was done at the site.
No separate government approvals were required: Since prefab construction doesn't add to the FAR(FSI), no additional approvals are required. So, no more additional approval cost, no more time lost in bureaucracy, no more running from pillar to post.
One-Stop-Shop: We all know how painful coordinating with multiple contractors is. You save the stress and time to deal with all different vendors and contractors, we take care of all the coordination and ensure a smooth and hassle-free experience.
Contactless delivery: This quick in-and-out and less labor-intensive construction methodology are especially useful at such times where social distancing is most important.
Clean and Dry at Worksite: All materials are factory-made hence, the project site was clean all the time.
Durability: Prefab buildings can be designed to withstand most extreme conditions such as high winds, intense seismic activity, or heavy snow. Also, as steel is inherently a noncombustible material, prefab homes have very high fire-retardant properties.
Less wastage: Because you don't have to bring extra materials to the site which also lowers the risk of damage due to theft of material at the site.
The superior quality of construction: As all components are produced at close supervision in factories quality and precision was maintained throughout the process.
Cost-effective: Given the benefits mentioned above, the cost of construction was just at par with the conventional brick and mortar construction if not less with seamless delivery.
Conclusion
Prefab housing is efficient, durable, cost-effective, eco-friendly, and sustainable, and also quick in its delivery, thus be it homes or business structures it is time to adopt prefab construction.
So, if you are considering getting an additional room built or even building an entire house using a prefab construction in Indore, Limpid Construction is here to help.
---
Home Constructions | Renovations | Interiors
To know more about our team and our services, please click here
To read more of such interesting blogs, please click here