Reading Time:
4
minutes
The term Green Building is constantly garnering attention in our world today. There is a growing need for sustainable development and green buildings to ensure the efficient use of natural resources that reduce the harmful impact on the environment.
So, how does one decide whether a Building is "Green"?
There is a predefined set of guidelines that relate to the design, construction, and operation of buildings which determines whether its performance is creating a harmful impact on the environment or not.
There are certain mandatory criteria that is predefined which would determine whether a building is a certified Green building or not. They are:
Selection of site and its design
Energy efficiency
Building materials
Waste management
Water efficiency
Quality of indoor air
Innovation and other technologies
In India, there are three rating systems that are most often used that have their own set of criteria to be followed. They are:
1) LEED India               2) IGBC               3) GRIHA
LEED India
LEED stands for Leadership in Energy and Environmental Design. It is recognized in India and globally as a point of reference for the design, construction, and operation of Green Buildings. It was originally developed by the US Green Building Council (USGBC) for promoting sustainability through the construction of Green buildings. LEED India encompasses rating systems for:
Existing Buildings (EB)
New Construction (NC)
Core and Shell (C&S)
Green Homes
A LEED certification can be achieved by a building if it meets all prerequisites and achieves the bare minimum standard according to them. Their rating system is based on points and establishes the intent and technology or strategies for every credit. Based on the number of points received, a project can earn one out of four levels of LEED certification which are:
Certified (40-49 points earned)
Silver (50-59 points earned)
Gold (60-79 earned)
Platinum (80 + earned)
IGBC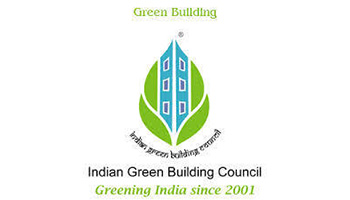 IGBC stands for Indian Green Building Council. The IGBC rating systems are voluntary, consensus-based, market-driven building programs. The rating systems are based on the five elements of nature (Panchabhutas) and are a perfect blend of ancient architectural practices and modern technological innovations. The rating systems are applicable to all five climatic zones of the country. Below is the list of rating systems by IGBC: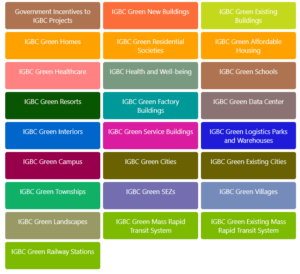 GRIHA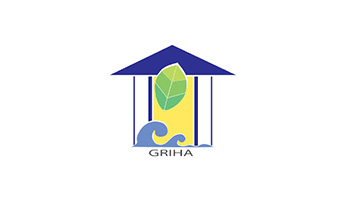 GRIHA is a National Rating System that was developed keeping in mind the different climatic zones in the country. It is suitable for rating all kinds of buildings. GRIHA stands for Green Rating for Integrated Habitat Assessment.
The basic features of GRIHA
The system has been developed to help 'design and evaluate' new buildings (buildings that are still at the inception stages). A building is assessed based on its predicted performance over its entire life cycle – inception through operation. The stages of the life cycle that have been identified for evaluation are:
Pre-construction stage: (intra- and inter-site issues like proximity to public transport, type of soil, kind of land, where the property is located, the flora and fauna on the land before construction activity starts, the natural landscape and land features).
Building planning and construction stages: (issues of resource conservation and reduction in resource demand, resource utilization efficiency, resource recovery and reuse, and provisions for occupant health and well-being). The prime resources that are considered in this section are land, water, energy, air, and green cover.
Building operation and maintenance stage: (issues of operation and maintenance of building systems and processes, monitoring and recording of energy consumption, and occupant health and well-being, and also issues that affect the global and local environment).
GRIHA rating criteria
GRIHA provides a rating of up to five stars for green buildings and dispenses points based on criteria met by any builder. It comprises a set of 34 criteria, few of them are:
Preserving the existing landscape and protecting it from degradation during the process of construction can fetch 5 points.
Enhancing energy efficiency of outdoor lighting and promoting the usage of renewable forms of energy to reduce the use of conventional/fossil-fuel-based energy resources can gain 3 points.
Preventing or minimization of air pollution from construction activities is also a GRIHA point.
Reducing volume, weight, and time of construction by adopting efficient technology (such as pre-cast systems, ready-mix concrete) can fetch 4 GRIHA points.
Questions?- I'd love to help. Get in touch with us, today.
---
Civil Constructions, Home Interiors & Renovations!
To know more about our team and our services, please click here
To read more of such interesting blogs, please click here